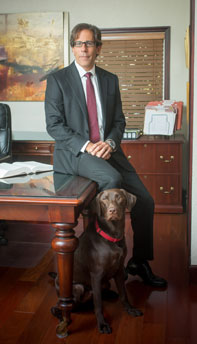 Your rights are all that stand between you and the enormous power of the government to strip away your liberties and freedoms. You can't take full advantage of those rights unless you know when — and how — to exercise them.
I can help you make the most of every opportunity for success in your case. Criminal defense is all we do at MSPerryLaw. We are a well-established, reputable law firm in the Sarasota area.
What Sets Us Apart: The Ability To View Cases From All Angles
Our lawyers possess the level of familiarity with local courts that only comes from appearing in the courtroom day in and day out. Prosecutors know and respect us. You can't put a price on this type of credibility.
Our legal team includes two former prosecutors with experience handling hundreds of serious crimes from both sides of the courtroom. The insights we gained as prosecutors can work to your advantage. I know how prosecutors often approach cases, and we are well-practiced in the nuanced give-and-take that can significantly impact the outcome of plea negotiation.
Why You Can Feel Confident With MSPerryLaw On Your Side
At MSPerryLaw, an attorney, not a case manager or investigator, will personally meet with you and work through the challenges ahead. I won't leave you in the dark.
Above all, I am committed to your freedom. My goal is to minimize the negative impact that criminal charges can have on all aspects of your life. Whether that requires getting the charges reduced or dismissed, securing a favorable plea bargain or taking your case to trial, you can rest assured that we will leave no stone unturned in exploring every possible defense.
Available 24/7
I'm here when you need me — day or night. Request your free consultation with one of our criminal defense attorneys by submitting our quick online contact form or calling our office in Sarasota, Florida, at 941-365-4000. We also have a second office in Bradenton.